Welcome to The WorkBench, a periodic newsletter from mycapentry.com.
If you haven't visited mycarpentry.com in a while, you might notice some new useful updates and improvements! Some of them are listed below:
Stair Calculator
The stair calculator on mycarpentry.com now has a new option called Mount Type. This refers how you are planning to attach stair stringers to an upper landing or deck.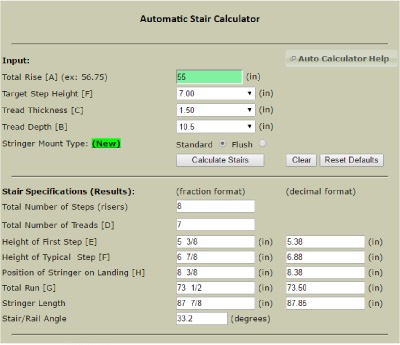 To see how this feature works, open the stair calculator, enter a value in the Total Rise field, and click the Calculate Stairs button. Toggle the Mount Type between "Flush" and "Standard" and compare the differences between the results and diagrams.
If you have any questions about this new feature, don't hesitate to contact-us.
Rustic Bar Plans
If you have access to some old fence boards, you can build this Rustic Bar Plan very inexpensively.
I built the one shown below from old fencing that someone left for trash. I'd say a new rustic bar is much better use than sending this beautifully weathered wood to a land fill.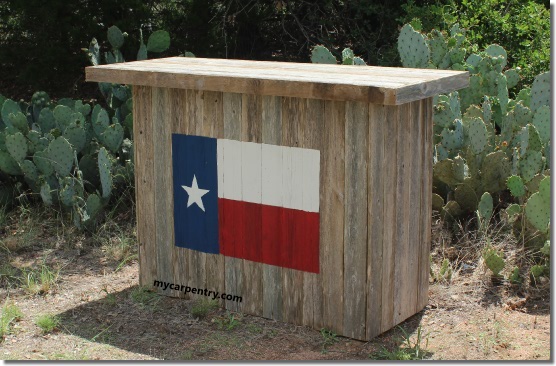 Of course, you can decorate it any way you want. I added the Texas flag and a few old license plates to mine.
Building a Cedar Deck
You can learn some valuable deck building tips from my experiences building my own cedar deck. I designed the overall structure using SketchUp Pro. I had the slab and metal cover built by a local contractor and built the cedar deck myself.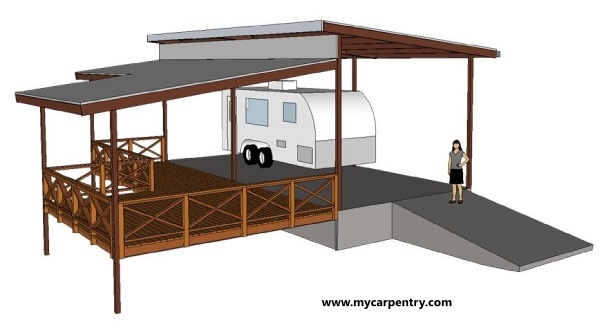 About me...

My name is Matt Bray - carpenter, builder, programmer, systems engineer and primary contributor to mycarpentry.com. In the construction industry, I have worked as a framer, trim carpenter, millwright, heavy equipment operator, supervisor, building designer, and contractor.

I have performed just about every task on a construction site - including smacking my thumb with a hammer and stepping on nails...

As a home owner, I have found that mycarpentry experience has been invaluable when doing maintenance, remodeling and woodworking projects at my home. Through my years of experience, I hope to provide you with the knowledge and confidence you will need to design and build your next project.

Thanks again for visiting mycarpentry.com!

Matt