Bluebird Birdhouse Plans
These bluebird birdhouse plans are designed for bluebirds, but other small birds, like titmice, wrens, and chickadees, might find this bird house a suitable place to build a nest. This bluebird bird house is constructed of all natural western red cedar.
This bird house plan can be built from a single 6' piece of 1"x6" cedar fence board (see the layout of pieces below). On the diagram, I show a 1/4" gap between each piece to allow for the thickness of the saw blade. But there's plenty of extra wood left on the 6-foot fence board, so the pieces don't have to be so close together when you are doing your own layout. You may also need to rearrange the pieces to avoid knots, etc.
The only hardware required to assemble the body of the bird house is about thirty or so, 16 gauge galvanized finish nails and three 1-1/2" galvanized wood screws (two for the door hinge, and the third for the door's locking screw).
---
---
Bluebird Birdhouse Plans
Cut the sides, base, back, and roof of the bluebird bird house, to the sizes indicated in the drawings, and assemble them together, as shown in the diagrams, using 16 gauge galvanized finish nails.
Cut the 10" x 4" front door section and drill a 1-1/2" entry hole, centered 7" above the bottom of the door. Drill a 1/8" hole, in each side panel, 9 1/2" from the bottom and 3/8" from the front. These will be used for the 1 1/2" galvanized screws that will function as hinges for the front door.
Align the front door, as shown in the top diagram, and screw the two 1-1/2" galvanized hinge screws, through both side panels, into the door. The hinge screws should be snug, but not tight, since the door is designed to be opened for easy cleanout. Secure the front door to the base of the bird house using the third 1-1/2" galvanized locking screw.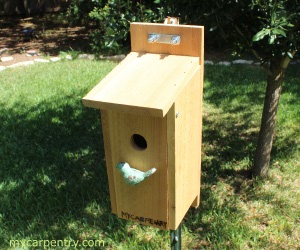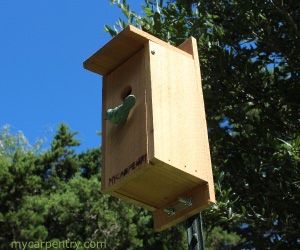 The recommended mounting height for a bluebird bird house is 5' to 6' off of the ground. The pictures show this bird house attached to a T-Post using 1" Pipe U-Bolts, but there are many ways it can be mounted.
We stumbled across the little metal bluebird at Hobby Lobby. We thought it would make an ideal perch for a bluebird Birdhouse.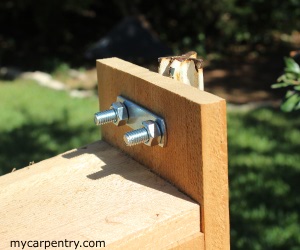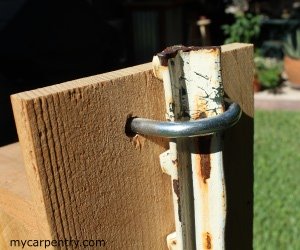 I hope you found these bluebird birdhouse plans easy to follow. It is one of my favorite classic designs and has a large access door in the front for easy cleaning when nesting season is over.
Note: The Eastern Bluebird picture at the top of this page was taken during an RV Trip to McKinney Falls State Park, Austin, Texas.
---
Visit eBird to learn more about birds and discover the world of birding.
---
---
---
---
What next?
Leave Bluebird Birdhouse Plans and visit our home page.
---