DIY Projects
These DIY projects are a collection of do-it-yourself tutorials that provide the online plans and basic carpentry information you will need to get you started building a deck; building a patio cover; building stairs; framing a backyard shed; installing crown molding; and more. Once you realize your potential, your own ideas will begin to flow.
There are many resources available on mycarpentry.com that can assist you with your DIY projects. There's a stair calculator to help you figure out the rise and run of stairs. There are several tutorials available in the framing carpentry section that provide the basics of residential wood framing, and span tables to help you determine the sizes and lengths of joists and rafters.
DIY Projects
---
Wooden Privacy Fence
Building your own wooden privacy fence is a fairly easy DIY project that can save you money!
---
DIY Workbench Plans
Building a workbench was one of my first DIY projects. I needed a place to store my tools and a place to do my work. I can't think of a more practical first project.
---
---
How to Build a Deck
This 7-part DIY project uses a 10x10 deck example to provide a detailed explanation of all of the phases of deck building (design, framing, footings, decking, stairs, railing, and stair railing)...
---
Framing Carpentry
This section covers several elements of residential framing carpentry, like building a roof, building walls, framing windows and doors, calculating the sizes and lengths of floor joists, ceiling joists, and common rafters. Understanding framing carpentry is required for most DIY projects.
---
---
Installing Crown Molding
This is a perfect home improvement DIY project. Learn how to install crown molding using some easy to learn tips, like how to cut crown molding, and how to use a coping saw to cope inside joints.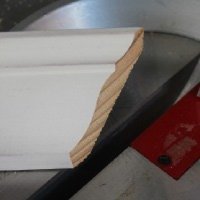 ---
Install Ceramic Tile
Learn tips on mixing thin-set and general ceramic tile laying techniques. Learn how to estimate tile so that you will have enough, but not too much left over. Learn how to lay out tile properly so that you have even run out on all sides of your room(s). Learn how to cut tile with a wet saw.
---
Build an Archway
This tutorial discusses two methods of creating an arch shape: use a formula to calculate the focus points of the arch, or cut a thin strip of wood to bend into the shape of the desired arch.
---
Build a Split Rail Fence
Building a split rail fence is an excellent DIY project and was one of the easiest fences I have ever built. If you dig your post holes exactly 10 feet apart, you won't have to cut a single rail or post...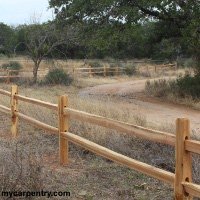 ---
---
---
---
---
What next?
Leave DIY Projects and return to myCarpentry home
---