Bar Plans
Build your own home bar
The bar plans available on mycarpentry.com come in three styles; inside, patio, and rustic. The differences between the three bar designs, besides size and shape, show the diversity of using western red cedar in a bar design.
The patio bar (or outside bar) uses western red cedar posts and galvanized tin for the front and sides. The bar top is made of tile and grout on a 3/4" plywood sheet, trimmed with 1x2 oak. All cedar wood surfaces are sealed with a cedar stain/sealer. The 1x2 oak trim around the edge of the bar top is sealed with several coats of polyurethane.
The indoor bar uses the same western red cedar as the patio and rustic bar, but it is sanded and finished with polyurethane throughout. The bar top is made of oak plywood and cedar trim. All wood surfaces are finished with polyurethane.
The rustic bar uses old western red cedar fence boards aged in the hot Texas sun for a perfect long lasting rustic finish. Given the nature of the wood, it can be left outside in the sun and rain; the continued weathering only adds to its character.
---
Bar Plans
---
The rustic bar plans make good use of old fence boards, making it a very inexpensive bar to build. It was the perfect bar for a recent family reunion hosted in the Texas Hill Country...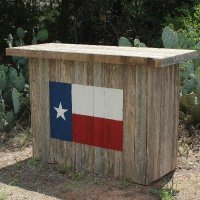 ---
The outdoor bar plans are easy to understand and easy to build. It will make a great addition to your covered patio or deck...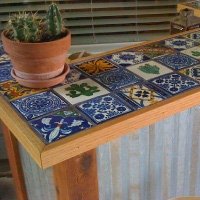 ---
The indoor bar was designed specifically for the Sanyo SR-4912M 4.9 Cu. Ft. refrigerator, and four 28.25" x 12" glass shelves that I had stored in my garage for over 10 years...
---
Bar design depends largely on the needs of the bar owner. I built my outdoor bar to complement my patio with a place where people can hang out, relax and drink beer. I have two bar stools for people to sit at the bar, and a small table with two chairs located near the front of the bar for more seating.
I built my indoor bar when I got into home brewing and needed a place for my keg refrigerator. I also had some glass shelves that needed to be put to use, so I designed the indoor bar to hold my refrigerator on the left with shelves to the right.
I built my rustic bar for an outdoor party I was hosting in the country and needed a bar for a place to put ice chests and serve drinks. It also proved to be a natural place for folks to gather and visit while sipping on a cold brew.
---
---
---
---
What next?
Leave Bar Plans and visit the mycarpentry home page
---