Build a Deck
Before you build a deck, you should become acquainted with the basics of deck construction and be familiar with a few building codes. This 10x10 deck tutorial is a great place to start.
This 10 x 10 deck tutorial is a seven-step process that walks you through the design, framing, footing, decking, railing, stair, and stair railing phases of deck building. It will provide you with the information you need to design and build a deck that will be safe and long-lasting. Click on Deck Design (below) to get started.
---
Build a Deck - Seven Phases
---
Deck Design The first, and probably the most important, phase of deck building. It covers some important things to consider before you begin designing your deck; the cost and availability of lumber; the size; the number of levels it will have; structural elements (joists, posts, beams, etc.); location; style; and Building Permits.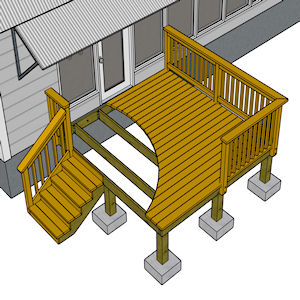 ---
Deck Framing This tutorial will show you how to determine the sizes and maximum lengths of joists and beams based on the size and design load of the deck. It will show you how to attach a ledger to a concrete slab and secure it with anchor bolts. It will show you how to level and square your deck frame and install beams and floor joists.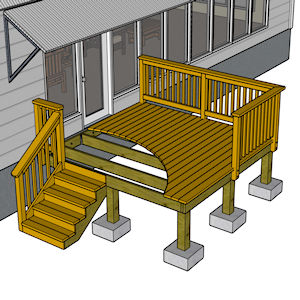 ---
Deck Footings The sizes of deck footings can vary considerably due to the building codes and soil conditions in your area. Footing depths in Northern Virginia had to be at least 24 inches beneath the ground's surface to be below the frost line. Other areas where the ground doesn't freeze can get by with shallower footings.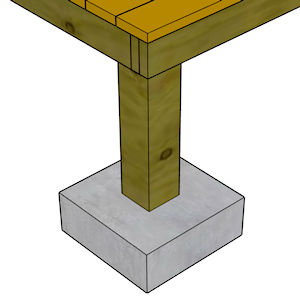 ---
---
Decking Compare a few common species of wood decking (redwood, western red cedar, pressure treated, etc.), and learn about the advantages (or disadvantages) of using each. Learn about the variety of galvanized fasteners for attaching decking to the joists (spiral nails, deck screws, and nails fired by Nail Guns) and a simple procedure for installing wood decking.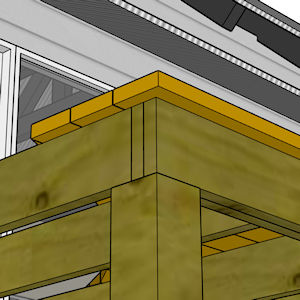 ---
Deck Railing Learn how to design railing for your deck that complies with local building codes. This article will show you how to install rail posts and layout pickets. This section provides building code information on the railing height, spacing of pickets, and general deck railing construction.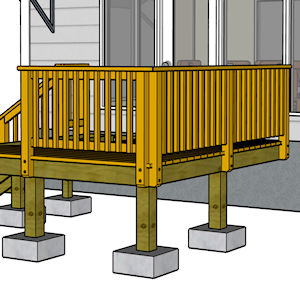 ---
Building Deck Stairs If the top level of a deck is more than 15 inches above the ground, you will probably be building stairs for your deck - even if it is only one step. The best (and easiest) way to calculate stair rise and run is to use the Stair Calculator on mycarpentry.com.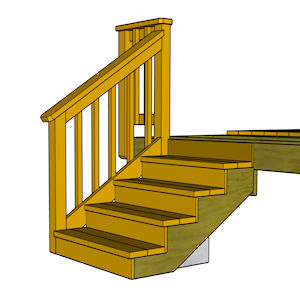 ---
Stair Railing This tutorial will show you how to install stair railing on your deck stairs. You will learn methods for determining the rail angle and laying out the rail for pickets and rail caps. It also provides information about rail height, picket spacing, and how to apply building code standards to your rail design.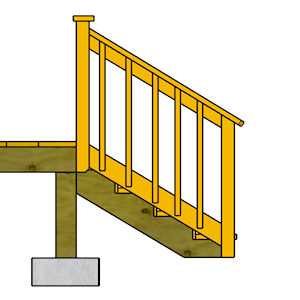 ---
Building a deck can be very simple to relatively complex, depending on the size, shape, and number of levels involved. A simple rectangular deck, where the surface is less than 16 inches above the ground, would be an example of an inexpensive deck you could likely build in a day or two. If you add height to it, where railing and stairs are required, check out the deck railing designs and how-to-build deck stairs tutorials.
I recently completed the construction of my 500-square-foot cedar deck - check out this article that describes the building process from design to completion.
When I build a deck, I always start with the deck frame, not the foundation. First, I assemble the perimeter of the deck frame and support it with temporary uprights. Next, I square and level the frame, then add the joists, support posts, and concrete footings. After you read each of these tutorials, you will have a good idea of how to build a deck.
To begin the 10x10 deck-building tutorial, go to build your own deck.
---
For building codes related to deck building, check out the Prescriptive Residential Wood Deck Construction Guide by the American Wood Council.
---
---
---
---
What next?
Leave build a deck and return to the myCarpentry home page
How to cut and build stairs
---