Outhouse Birdhouse
The Outhouse Birdhouse plan is designed to be used by wrens or house finches, but other small birds might find this particular design suitable for nesting. This hill country birdhouse is made from all natural western red cedar and galvanized tin roofing.
This birdhouse can be built from a single 6' piece of 1x6 cedar fence board. I made use of a small piece of 7" square galvanized tin that I found, for the roof. You can also use western red cedar for the roof, if you don't have a piece of galvanized tin available.
---
---
Outhouse Birdhouse Plans
Cut the sides, base, and back of the birdhouse, to the sizes indicated in the drawings, and assemble them together as shown using 16 gauge galvanized finish nails.
Cut the front door to the sizes indicated and drill a 1-1/4" entry hole, centered 7" above the bottom of the door.
Attach the door to the birdhouse using 3/4" x 1.5" hinges (black). The ones shown in the diagrams were purchased from Home Depot.
The black "Hook and Staple" door latch (EVERBILT-19754) was also purchased from Home Depot. Install it as shown in the drawings below.
---
---
The 2-3/4" x 4" header above the door was created by simply sketching a moon shape on the front and cutting out the shape with a jigsaw. Attach it as shown in the diagrams, using 16 gauge galvanized finish nails.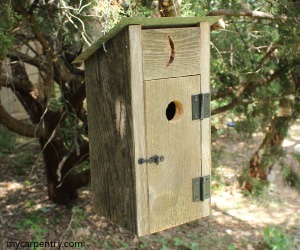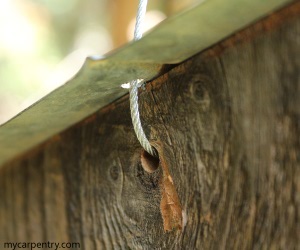 Center and attach the galvanized tin roof using any small galvanized screws of your choice.
Once the birdhouse has been assembled, you can attach a hanger wire to it by drilling holes in both sides, and the edges of the roof (as shown above - right). The holes might be a little off center (from front to back) because the front of the birdhouse weighs slightly more than the back.
You can determine the center of gravity (and location of the holes) by supporting the birdhouse with your index fingers on each side, until the birdhouse hangs perfectly vertical.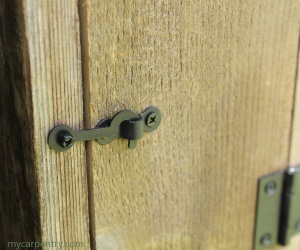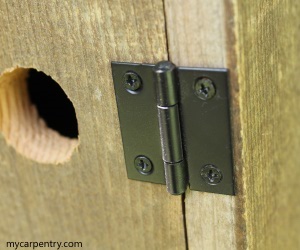 I hope you enjoyed building this outhouse style birdhouse. It is one of my favorite designs and has a nice large access door in the front for cleaning it out after nesting season is over.
Visit eBird to learn more about birds and discover the world of birding.
---
---
What next?
Leave Outhouse Birdhouse Plans and visit our home page.
---