How to build it...
This how to build section is a collection of do-it-yourself tutorials that provide the basic carpentry information for building your own deck; building stairs; framing a house; installing baseboard trim; installing crown molding; engineered hardwood flooring installation, and more...
As you build more projects, you will get valuable hands-on carpentry experience. As you get more experience, you will discover techniques of your own and gain the confidence needed to design and build your own woodworking projects.
---
---
Build your own Fence
---
Building a Split Rail Fence
Building a split rail fence is one of the easiest fences that I have ever build, but it wasn't physically easy...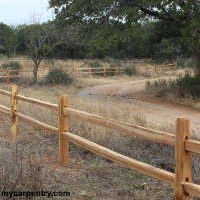 ---
How to build your own deck (a 10' x 10' deck example)
How to construct your own deck
This page focuses on the design phase of deck building.
How to frame a deck
This tutorial explains how to construct a deck frame and attach it to an existing structure with a concrete slab.
How to lay decking
This tutorial provides some very useful tips and methods for laying and attaching your deck boards.
How to make concrete footings
This tutorial provides information on how to cut and attach the vertical posts that support your deck. It also discusses methods for mixing and pouring concrete into simple forms.
How to cut and build stairs
This tutorial provides the information that you need to build stairs for any project. It discusses how to calculate the number of steps, stair height, rise and run, and more.
How to construct handrail
This tutorial discusses the procedure to build the same handrail design used in the How to build handrail section (above), but on stairs.
How to install stair railing
Stair railing is a little more difficult to construct than standard deck railing, but this tutorial will show you some techniques that make building stair railing easy.
---
Framing Carpentry
Roof Framing
This tutorial provides the information that you need to determine roof pitch and slope; figure angles; and calculate rafter lengths, for basic gable roof framing.
Framing a Wall
Learn the differences between framing a load bearing wall vs. a non-load bearing wall. There are also other important points of wall framing that you should know, so that the materials used to cover the walls will break on studs.
Framing a Door
Learn the framing members that make up the parts of a door frame. Learn how to determine the rough opening of a door, as well as the length and size of the door header.
Framing a Ceiling
Learn how to determine the size and length of ceiling joists. In a two-story residential structure, the ceiling joists also typically function as the floor joists of the second floor.
---
Trim Carpentry
Installing Crown Molding
This tutorial provides in the information that you will need to install basic crown molding. This tutorial covers cutting crown molding on a miter saw, and coping joints.
---
Misc. Building Techniques
How to lay ceramic tile flooring
Learn tips on mixing thin-set and general ceramic tile laying techniques. Learn how to estimate tile so that you will have enough, but not too much left over. Learn how to lay out tile properly so that you have even run out on all sides of your room(s). Learn how to cut tile with a wet saw.
How to build an archway
This tutorial discusses two methods of creating an arch shape; using a formula to calculate the "focus" points, and perhaps the easier method, cutting a thin strip of wood to bend into the shape of an arch.
---
---
What next?
Leave How to build and return to myCarpentry home
---